Mike Fall & the Fallouts - Big City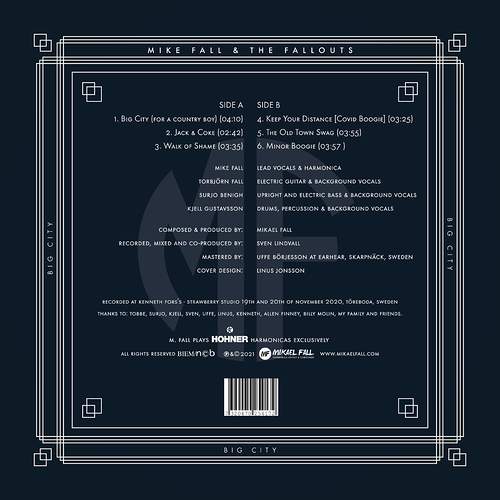 Für deutschen Text, bitte herunterscrollen
Following his 2018 release "Born In A Different Time", Swedish harp player, singer and songwriter Mike Fall's latest offering is an EP with six new self-penned compositions. In contrast to its predecessor, "Big City" is a more straight ahead retro style blues production featuring five vocal cuts, plus one instrumental. The songs are largely autobiographical, referencing urban life from the viewpoint of a country boy, the need to party on, even under difficult circumstances, embarrassing moments in relationships, the frustrating realities of life during the Covid pandemic, and the lure of beautiful women in Stockholm's old city for a country boy.
Mike's vocals are self-assured and strong and the accomplished band, featuring Torbjörn Fall on guitar, Surjo Benigh on bass and Kjell Gustavsson on drums, is clearly at home with the material, rocking solidly throughout as well as contributing raucous backing vocals. The harp is equally self-assured and mostly played amplified, though (as with his last album) I have a slight preference for his acoustic sound, which Mike uses to great effect on the sinuous minor-key tune "The Old Town Swag". He mostly uses 2nd position with the exception of the closing number "Minor Boogie", which is in 3rd. The songs encompass a variety of more or less traditional styles ranging from crunching shuffles to straight ahead rockers and boogie woogie, plus the aforementioned "Old Town Swag". Well recorded and produced, Big City will no doubt appeal to fans of contemporary blues harmonica and underlines Mike Fall's status as one of today's leading Scandinavian players.
"Big City" is available here: http://mikaelfall.com/merchandise-2/
and here: www.bengans.se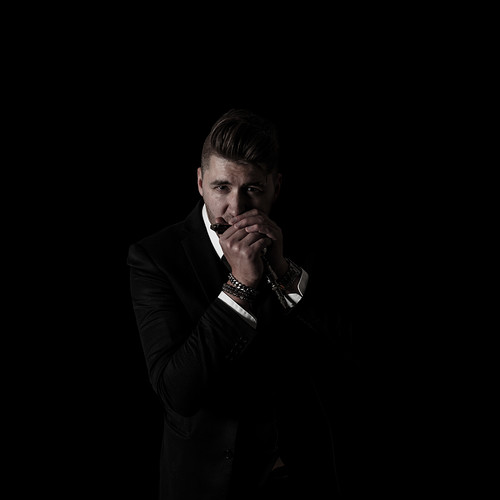 Mike Fall & the Fallouts - Big City
Nach seinem letzten Album "Born In A Different Time", 2018), ist die neueste Veröffentlichung vom swedischen Harpspieler, Sänger und Songschreiber Mike Fall eine EP mit sechs neuen Eigenkompositionen. Im Gegensatz zum Vorgänger ist "Big City" eine eher etwas konventionellere Retro Bluesproduktion mit fünf Gesangstitel sowie ein Instrumentalstück. Die Songs sind weitestgehend autobiographisch und handeln vom Leben in der Großstadt aus der Sicht eines Landbewohners - die Freuden des Jack Daniels, peinliche Momente in Beziehungen, die frustrierende Wirklichkeiten des Lebens in der Pandemie, sowie die ewige Verlockung der schönen Frauen in der Stockholmer Altstadt für einen jungen Mann vom Lande.
Mikes Gesang ist kräftig und selbstbewusst, und die hochkaratige Band, mit Torbjörn Fall (Gitarre), Surjo Benigh (Bass) und Kjell Gustavsson (Schlagzeug), fühlt sich offensichtlich mit dem Material wohl. Alle spielen durchweg gekonnt und stilsicher und singen dazu noch kräftig mit an den Backing Vocals. Mikes Harp klingt genauso selbsbewusst wie sein Gesang und wird meist elektrisch verstärkt, wobei ich persönlich (wie bei seinem letzten Album) seinen akustischen Sound, den er hier sehr effektvoll beim geschmeidigen "Old Town Swag" im Moll einsetzt, doch etwas lieber mag. Er spielt meist in der 2. Position, mit Ausnahme der letzten Nummer "Minor Boogie", wo er die 3. Position verwendet. Die Stücke greifen auf eine Reihe mehr oder weniger traditionellen Bluesstilen zurück, die Bandbreite reicht von Shuffles über geradlinige Rocker bis hin zum Boogie Woogie, plus dem bereits erwähnten "Old Town Swag". Produktion und Audioqualität sind durchweg hochwertig. "Big City" unterstreicht Mike Falls Stellenwert als einer der führenden skandinavischen Harpstilisten und wird bei Fans der zeitgenossischen Blues-Mundharmonika sicherlich gut ankommen.
"Big City" ist erhältlich hier: http://mikaelfall.com/merchandise-2/
und hier: www.bengans.se