Hi can you tell me anything about a hohner i found online, professional st metal s (used) 8822026
I have a black LP copy with serial number 78180. any info on this?
Greetings,
I have (what I believe to be) a Hohner HG 596 acoustic with serial number: 998035. I'm just looking to date the guitar and confirm the model number. This is/was my first guitar when I purchased it secondhand in 1997.
Thanks!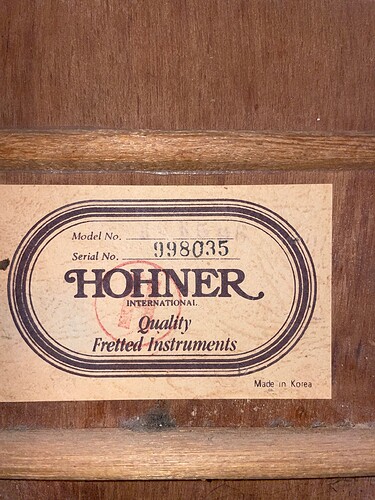 Hi,
I have a Leyanda Line LW425B with a serial number 8808204. I would like to know if you could date it for me and, if possible, tell me where it was made. Thanks in advance to anyone who replies.
Hey, i have a Hohner ST Special Proffessional.
Serial number 8716900
I was wondering what year its from🙂
Hey, I have an old Hohner dreadnought guitar, the Model No. is HW-400 SB and the Serial 70600844. I was wondering what year this was exactly made and the specifications that are original to it. Thank you and have a nice day.
I have a strat model 3 single black Hohner professional electric guitar. The serial number is c223547. Is it possible to know which year it is made and where it is made?
Hi Martino,
I've enquired at Hohner Service and will let you know what they say. Usually the first 2 figures of the serial no. denote the year of manufacture, but in this case that can't be right. Are you sure about the c at the beginning?
Hi,
I have just purchased a Hohner Professional B2A headless bass. Serial number 04051810.
Can you please supply year and specifications?
Thanks in advance!
Hello, about to buy a Hofner TE Printz and would love to know the year, can you help ?
Serial N° : C205132


Thank you !
Hi, i have Hohner st special with serial number 9043452, can anyone tell me some information about that guitar? Thank you all for help

I've asked Hohner Service to check it out and will let you know what they say. Usually the 1st 2 digits are the year of manufacture.
According to Hohner Service, your guitar was built in 1989 in S. Korea.
I own a 815 Archtop with two serial numbers stamped inside the body. 92877 and 607822.What these stamps mean remains a mystery to me.
I know the 800 series was manufactured between '77 -'85. I believe they were made in Japan. Where in Japan isn't exactly clear. Some folks say the Terada factory which had a reputation for building very fine instruments. The 800 series guitars are most expensive guitars that Hohner manufactured so that sort of makes sense. That being said I've seen no proof that they were built by Terada.
Max
Sorry Max, the Service Dept. tells me they have no reliable records from that period and can't provide any definite information on this instrument. Play and enjoy!
Cheers
Steve
Hello, can you help me with a query of strat style guitar with serial number c302947? It is an HS-59, and any additional information would be much appreciated. Thank you.